Posted on December 22, 2012 by Tony
Pull it out, turn it up, what's your favorite song?
That's mine, I've been crying to it since I was young
So now is the time of year for everyone's best-ofs, top-tens, and favorites from 2012. Things are no different around here, so let's get started. My best records of 2012 are…
The Gaslight Anthem – Handwritten
When American Slang came out two years ago, I was lukewarm to it after the first few listens. It took seeing and hearing those songs live to really enjoy them, and now I do. Although I still don't really love the production on that one, the songs underneath are really good. With Handwritten, the songs are great from the drop of the needle in both songwriting and production. And I know they will sound great live as well. Since the first time I heard The Gaslight Anthem they have been one of my favorite bands, and with Handwritten they did not disappoint. Deluxe album includes Nirvana and Tom Petty covers, both worthy of hearing.

Propagandhi — Failed States
For the past 12 years, Winnipeg's Propagandhi have been pushing their sound further and further away from the Fat Wreck-Chords sound they were synonymous with for so many years before. Beginning with Today's Empires, Tomorrow's Ashes, Propagandhi have shed most of that old style, exposing a laser-tight, heavy, thrash/punk machine that impresses with every record. Failed States continues that progression from 2009's Supporting Caste with even more refined melody and power. The trademark political content is there, just as you would hope it would be, but with an added bit of tenderness on tracks like "Unscripted Moment". There isn't a single lightweight in these twelve bangers. Embrace them all.

Converge — All We Love We Leave Behind
If you run in hardcore/punk/metal circles, then you've probably read or heard a lot about this album this year. It has been very well received, and rightly so. Converge are a household name in all of those genres by transcending them across a twenty-plus-year career. And this latest effort does even more to further them as mainstays in the area of aggressive music. Seventeen pummeling tracks of hardcore filth that leave one wondering how they are still so good at this after all these years.

Brother Hawk  — Affairs of Plain Living
And now for something completely different. And by different I mean fucking awesome. This four piece Atlanta outfit lays out epic bluesy rock n' roll from and for the heart. After years of cutting their teeth in their local hardcore/punk scene, a few of these guys decided to showcase a different set of influences that were just dying to get out, and do those shine here on Affairs of Plain Living. Track after track of beautifully written and expertly performed blues that makes you wish you knew more bands that sounded like this. And don't let the six tracks fool you either. The final jammer on this one clocks in at over 12 minutes.
Those are some of my top records from this year. Here are the rest, all fully recommended:
Japandroids — Celebration Rock
La Sera — Sees The Light
Burning Love — Rotten Thing To Say
Out Crowd — Just Us 7″
Black God — II EP
Hot Water Music — Exister
The Cranberries — Roses
OFF! — OFF!
Lemuria — Varoom Allure 7″
Make Do And Mend — Everything You Ever Loved
The Shins — Port of Morrow
Title Fight — Floral Green
Corrosion of Conformity — Corrosion of Conformity
Bob Mould — Silver Age
No Age — Everything In Between
Listened to once or twice, need to revisit:
Municipal Waste — The Fatal Feast
Dinosaur Jr. — I Bet On Sky
Code Orange Kids — Love Is Love // Return To Dust
Strife — Witness A Rebirth
Trash Talk — 119
Ceremony — Zoo
Mindset — Leave No Doubt
Soul Control — Bore Core
Goodtime Boys — What's Left To Let Go
Tragedy — Darker Days Ahead
Others I want to hear but haven't had the time or just realized their existence are Tommy Guerrero's Lifeboats and Follies, The Menzingers On The Impossible Past, Big Boi's Vicious Lies and Dangerous Rumors, and Pig Destroyer's Book Burner.
As always, please include your selections below. It can be major label pop fluff all the way to your favorite local band's new 7″. If you liked it, list it.
Posted in Music / Tagged Best of 2012 / 3 Comments
Posted on October 23, 2012 by Tony
Whenever I get frustrated with the candidates involved in a particular two-party election, like we are seeing now, I think about voting for a third-party option.
And then I think of this: "Go ahead, throw your vote awaaay!"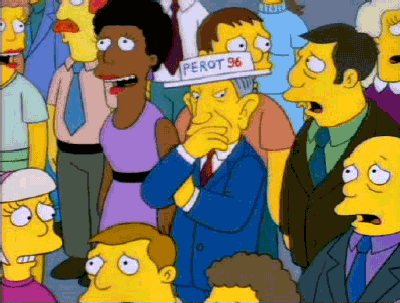 Whatever happens in this election, just remember… don't blame me, I voted for Kodos.
Posted in Random / Tagged election, Ross Perot, The Simpsons / Leave a comment
Posted on October 17, 2012 by Tony
It doesn't seem strange to me, at 35 years old, to be straight edge. Back in my early twenties though, this would have been a big deal to me. Mind-blowing stuff. There weren't many straight edge people that remained that way into their 30's back then. There was always one or two dudes that were still edge that late, but it seemed so far away for all of us still growing up in the hardcore scene that we didn't really think that would be us one day.
And here I am, halfway through my thirties and still without an inkling to pop open a beer. Not that I really care if anyone drinks. And I am actually in favor of legalizing marijuana. But that lifestyle, it's just not me.
Drugs and alcohol never really appealed to me, even before I knew what straight edge was. I've been stuck with dudes smoking weed and at plenty of parties that I could have easily just given up and got totally hammered, but it has just never been what I wanted to do. That's one reason that it's so easy for me to live a drug-free life. It's the only way I can live. Any other way would be trying too hard to be something I'm not.
So to my non-edge friends, I raise my glass of sweat tea to you. I love you all just as much. And to all my fellow edgemen and women, Happy Edge Day. There are many more of you now, into your thirties (and forties), than ever before. Don't let this world defeat you.
Posted in Random / Tagged edge day, straight edge / Leave a comment
Posted on October 11, 2012 by Tony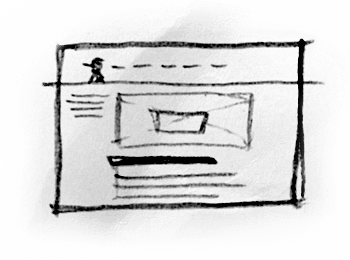 As you can see, there is a fancy new site here at tonyxprice.com, built using WordPress. I've been using WP a lot more lately and liked what I saw, so I thought why not give it a shot. The site is responsive and should work well across a number of screens. I started out developing the site locally with MAMP and moved it to the live server over last weekend (with the help of the CBA himself).
Things got off to a less-than-stellar start, though. No more than a day later the site had been compromised by some nefarious individual(s). Once again the CBA swept into action and saved the day rather quickly. Kevin Miller is awesome, but you all knew that.
So what's all this then?
I'm not sure why, but I feel the need to have a blog now more than before. Sometimes you have things you want to say, but don't want to clog your follower's Twitter timelines. So lets bringing it back. And Facebook just becomes a mess that I would rather avoid most of the time. So lets bringing it back. Instagram is great, but you can't post links in your title or comments (which is probably a good thing). So lets bring it back.
Politics, religion, baseball, skateboarding, film & television, veganism. All of these topics may appear here, or none of them. Who knows. We could talk about fascist anarchists, but that still wouldn't change the fact that, well, those don't actually exist. I encourage you to let me know what you think. Or don't. I won't get upset, unless you're being stupid.
Work and art
So have a look around at the site. You'll find the custom shoes I've worked on, and a bunch of the various projects that I've been fortunate to work on. Most items have their own page with info, but the shoes page uses Fancybox to give you the full view.
And that's it really. If you follow me on Twitter (@tonyxprice), then I'm sure you will see the occasional link that leads you back here.
Posted in Random / Leave a comment